Situated in the North of Italy, Torino is accessible by two major international airports; TORINO CASELLE and MILANO MALPENSA
Owing to its position, Torino – easily reached by car, train or plane – is the natural connection point between the surrounding Alpine valleys and is where the major national and international communication routes converge.
In the airport complex, on the "Arrivals" floor, taxis and hire car firms can easily be found; Torino can also be reached by train and bus.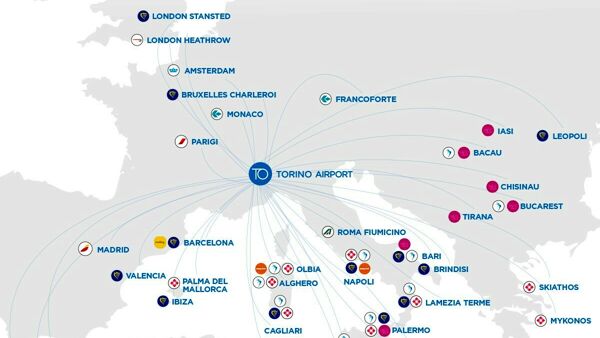 Torino is a very important railway junction, especially for fast connections throughout Italia and partof Europe on the Lyon-Paris line with the trains Frecciarossa, Frecciabianca, Italo and TGV.
There are five stations in town, two of them international (Porta Nuova and Porta Susa) while threeare mainly for local transport and the metropolitan rail service (SFM):
Porta Nuova – Corso Vittorio Emanuele II 53 MAIN STATION
Porta Susa – Corso Bolzano
Lingotto – Via Pannunzio 1
Stura – Corso Romania 501
Rebaudengo Fossata – Via Fossata
The trains to/from the airport are provided by GTT-Gruppo Torinese Trasporti departing from the
stations:
Dora – Via Giachino
Porta Susa – Corso Bolzano
For further information: GTT
For information and timetables of trains:
Trenitalia – www.trenitalia.com
NTV – Italo – www.italotreno.it
GTT – SFM – www.sfmtorino.it
SNCF – TGV – www.tgv-europe.com/eng
From Milano Malpensa airport it is possible to reach Torino with two shuttle services that reach the city centre in about 2 hours.
Arriva: timetables and fares: https://torino.arriva.it/
Flibco: timetables and fares: https://www.flibco.com/en/shuttle/bus-turin-airport
Alternatively, it is possible to reach Milano Centrale railway station from the airport with the various connections and then by train – including high-speed trains – to Torino.
Taxis are available outside the Arrivals hall and reach the centre of Torino in about 30 minutes, for a cost of approximately €36.
TAXI TORINO – www.taxitorino.it
The main car hire companies can be found at the airport: their offices are located in the Arrivals hall and inside the tunnel of the multi-storey car park.
A transport service is available for the disabled between the airport and city: the vehicles are found on the Arrivals floor in an easily accessible reserved area. Passengers wishing to use this service should contact the free-phone number shown at least 48 hours in advance (9am-1pm / 2pm-3pm).
800.514999 – www.aeroportoditorino.it
Your pick of rides at low prices! No matter where you're going, by bus or carpool, find the perfect ride from our wide range of destinations and routes at low prices. https://www.blablacar.com/
Turin can be explored by car (although with some limitations and paid parking) but it is advisable to take advantage of the vast network of surface public transport and the metro line, as well as the taxi tour, car sharing and bicycle rental proposals.
Torino is widely served by GTT Gruppo Torinese Trasporti buses and trams which pass through it in every direction from early morning to late evening. The route of the first automatic metro in Italy connects Collegno (from the west) and Piazza Bengasi (from the south) to the city center and the Porta Nuova and Porta Susa stations.
For younger people (but not only) the Night Buster service is active, a safe system for traveling at night: every Friday, Saturday and on the eve of holidays from the suburbs to the center return with stops near the main nightclubs.
Transport documents can be purchased from authorized GTT retailers.
To get around the city, we recommend Moovit https://moovitapp.com/torino-222/poi/en: the app that allows public transport users to quickly identify the best solutions to reach their destination, to know in real time the arrival time of public transport at the stop and to receive the communications about any sudden or planned changes to the public transport network.
A convenient service also for tourists, the app is in fact available in 45 different languages and, thanks to the GPS position identified by the device, automatically sets the area in which you are located.
GTT Gruppo Torinese Trasporti offers various ticket solutions for traveling with all GTT buses and trams in the urban and suburban network of Turin (first belt), including the underground.
Tickets can be purchased in tobacconists and bars displaying the GTT logo, in vending machines in metro stations, via the TO Move app (Android only) and with the new payment system with contactless cards from the Mastercard and Visa circuits at subway gates and on some urban lines.
For tourists and visitors, it is possible to purchase the Special Tour Ticket, a ticket that allows you to travel on trams, buses and the subway for 48 or 72 hours from the moment of first validation. It can only be used by one person and must be validated every time you change vehicles.
Available for purchase at GTT retailers and metro station ticket machines at a cost of €7.50 for 48 hours or €10.00 for 72 hours.
For holders of the Torino+Piemonte card or the Royal Pass, it is possible to obtain these tickets at a special rate at the Turin Tourist Office in Piazza Castello.
Every Friday, Saturday and on the eve of holidays the buses of all the night lines take you from the peripheral terminals to the central terminus in Piazza Vittorio Veneto with stops near the main night clubs.
The first departure from the peripheral terminals is at 00.00, the last at 4.00.
The first departure from Piazza Vittorio Veneto is at 1.00, the last at 5.00.
W1 ORANGE LINE, from Piazza Massaua and back;
RED LINE N4, from via delle Querce (Falchera) and back;
S4 BLUE LINE, from Piazzale Caio Mario and return;
S5 PURPLE LINE, from Piazza Cattaneo and back (reaches San Salvario);
S8 BLUE LINE, from via Artom (South Mirafiori) and return;
LINE N8 GOLD, from Piazza Sofia and back;
YELLOW LINE N10, from via Massari and back;
W15 PINK LINE, from via Brissogne and back;
W60 SILVER LINE, from Piazza Manno and back;
E68 GREEN LINE, from via Cafasso and back;
On board the night service lines, all normal travel documents are valid for the route travelled.